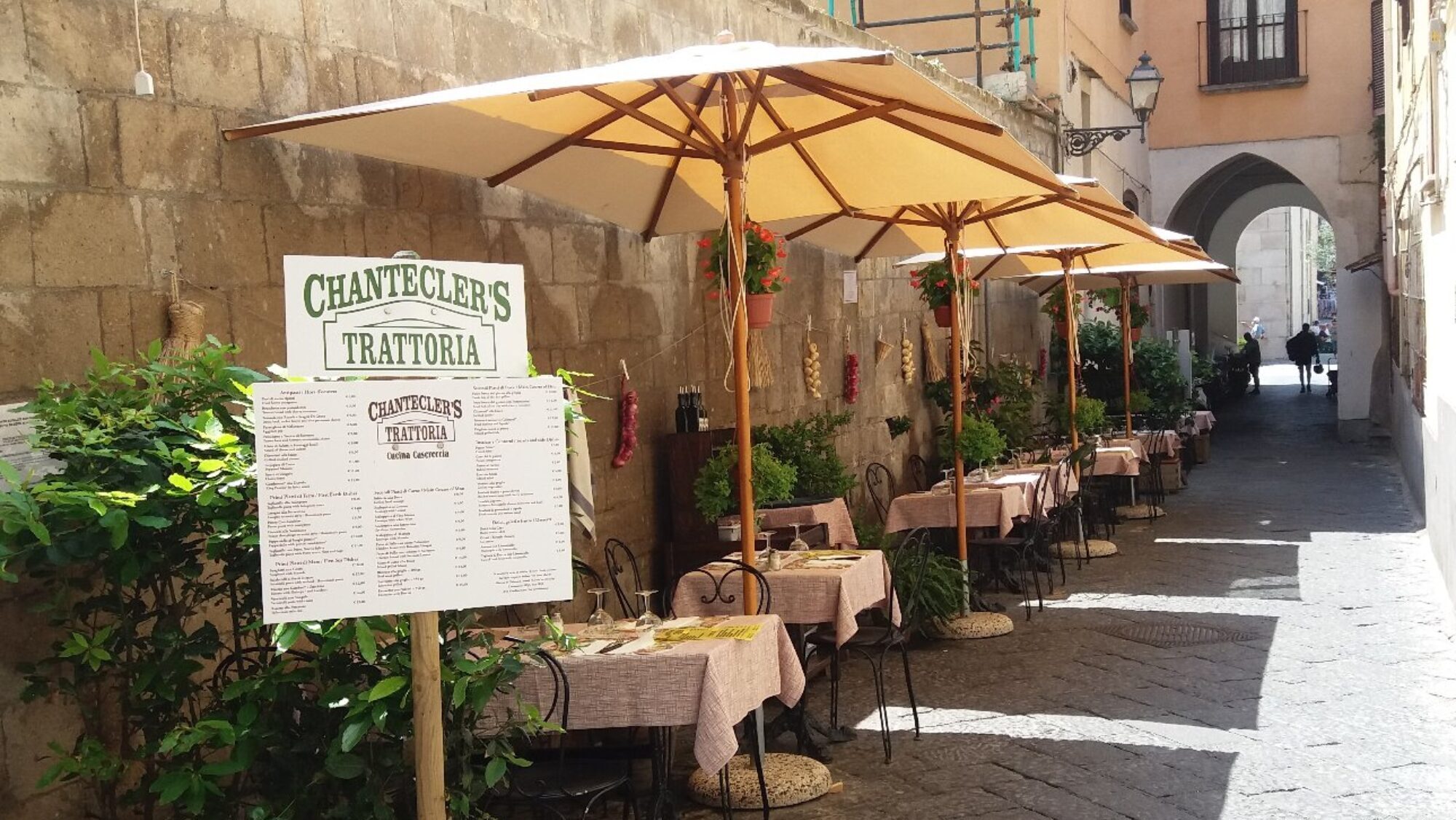 About us
The Trattoria Chantecler is located in Sorrento, in the historic center, in a street that at every step tells the attentive visitor the Middle Ages and the Sorrento Renaissance, between ancient colonnades dating back to the 12th century and patrician houses from the 15th and 16th centuries. It is housed right inside the large hall of a fifteenth-century patrician villa, and you can still see, inside the restaurant, the capitals and features that adorned the villa. Stopping for a quick lunch while visiting the splendid historic center of Sorrento or, after visiting the wonders of the Sorrento peninsula, refreshing yourself at the "Trattoria Chantecler's" enjoying the typical dishes of Neapolitan cuisine, is a pleasant break between the history and the flavors of our traditions. The large and well-kept terrace outside the Trattoria, with its 30 seats, hosts our customers on the hottest days. Located on the external alley, our terrace guarantees a truly unique environment in the heart of the historic center of Sorrento, under the Romanesque bell tower of the Duomo decorated with Roman and early medieval marbles dating back to the 12th century.
Been open since August 28th 2000!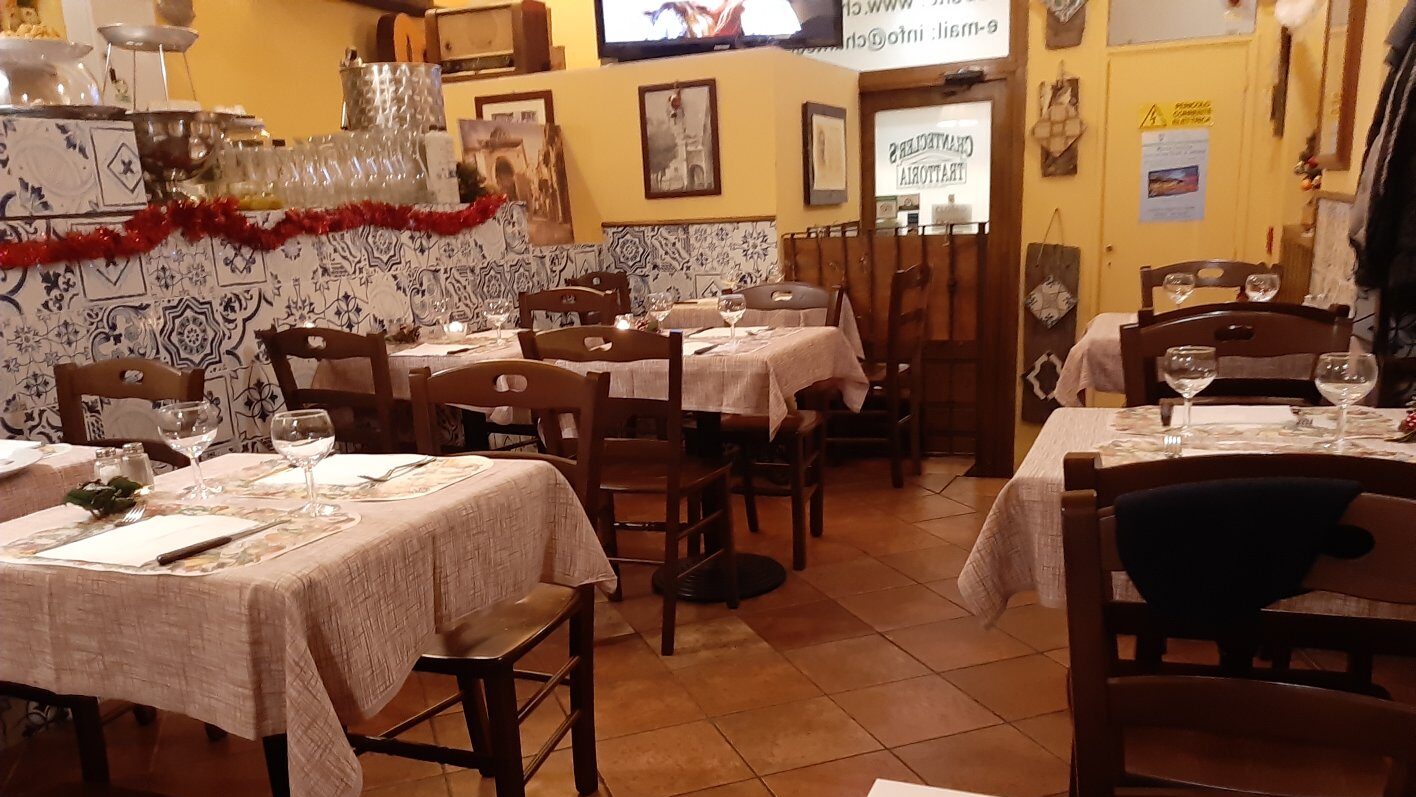 Our history
The Chantecler's Trattoria, located in the historic center of Sorrento, in a quiet position, is totally family run. It has been famous for many years for the hospitality and friendliness of the owners who work with passion every day in the restaurant which has always been characterized by the quality of the ingredients, by a traditional, local and simple cuisine and by the economy of the prices. A truly excellent quality / price ratio. The menu changes every day and includes both land and sea specialties, thus allowing our customers to always try new appetizers, first courses, second courses and desserts always homemade such as tiramisu, caprese or lemon delight and so just as they want. our tradition courgette flowers, eggplant parmigiana, homemade lasagna and gnocchi, light and digestible Genoese meat, meatballs with sauce, pasta and beans, anchovies in a pan or golden and fried, fried fish, octopus salad, squid and potatoes, stew, cut of beef etc alternate every day of the week.
The environment that now houses the restaurant is not very large, but the very rustic and characteristic details inside make it so warm and welcoming. In summer, it is also possible to eat outdoors through ancient walls, places where pre-Roman structures in African work from the 2nd century BC were found.

Special Lunch
We serve the highest quality of prepared meals at a great value, in a home-like and friendly environment.
more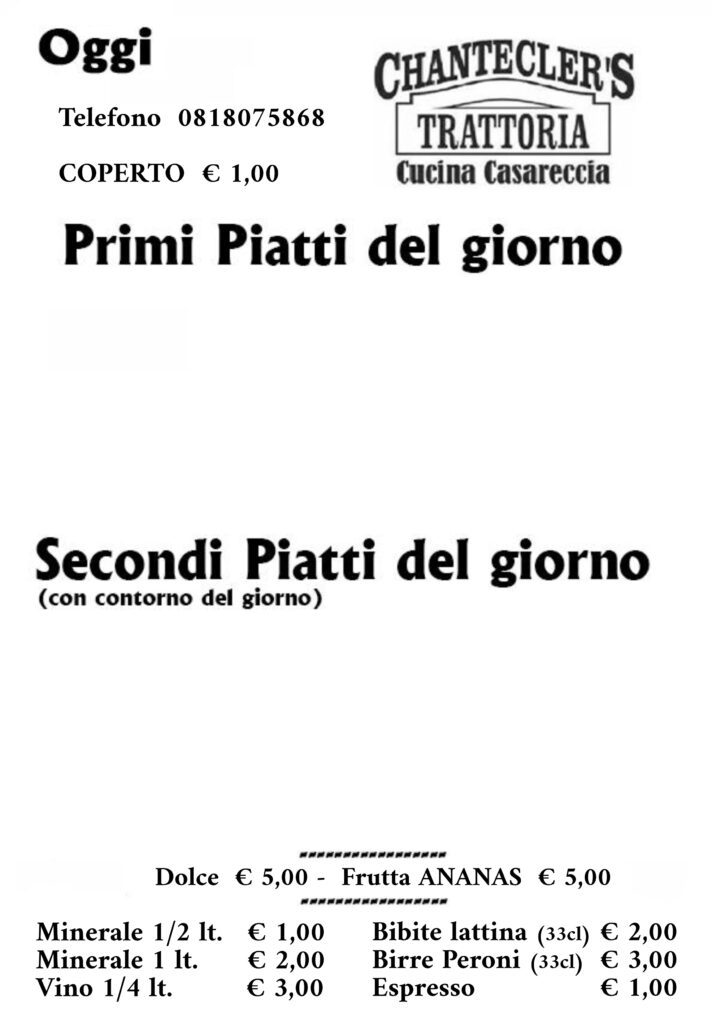 Menu
Traditional recipes of Italian and Neapolitan culture. All the flavours from Mediterranean food, freshly picked basil, rosemary, parsley and all "Sorrento taste"
more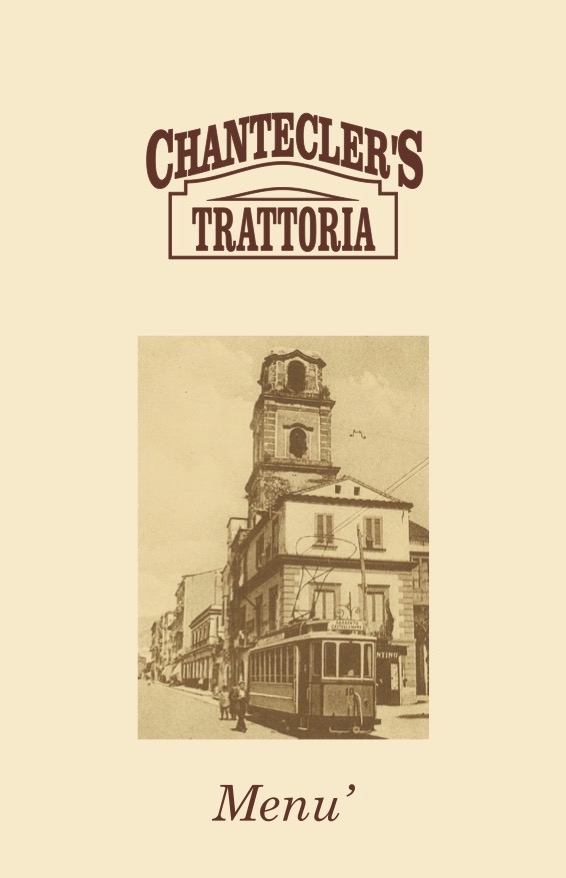 Wine list
Simply choice of local wine, Falanghina, Aglianico and local wine of course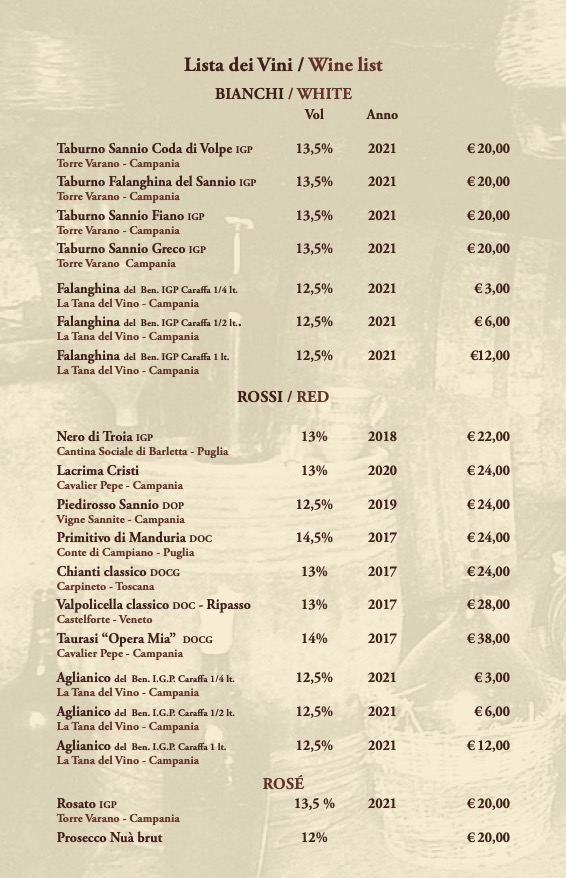 Excellent Services & good Prices
please call  for reservations (+39) 081 807 58 68
Payment
We accept- credit cards- payment by mobile- cash
Time table:
Monday CLOSED | Tuesday- Sunday 12.00 AM / 3.00 PM6.30 PM / 11.30 PM
Facilities
Free WiFiAir Conditioned
Trattoria Chantecler's
Via Santa Maria Della Pietà 3880067 Sorrento (NA) – Italy
info@chanteclers.com
(+39) 081 8785868